Entwickeln Sie Ihre Führungs- und Managementkompetenzen in der härtesten Führungssimulation
Josef Wegenberger
Virtuelle Führung | New Work | Agile Teams | Netzwerkorganisation | Führung und Home-Office/Workation/ | Work-Life-Balance … Stichworte, die Führungskräfte und Personalentwickler/innen in allen Branchen und allen Unternehmensgrößen beschäftigen.
Was bedeutet das für die Führung?
Von Arbeitszeiten zur Vertrauensarbeit?
Von der Misstrauenskultur zur Vertrauenskultur?
Von der "Anwesenheit" zur "Zielvereinbarung"?
 Welche Führungs- und Managementkompetenzen führen in der Zukunft zum Erfolg?
…
Unsere managementpraxis | Planspielserie "Führen in der Praxis" macht Führung und diese Entwicklungen begreifbar und erlebbar. In diesen Planspielen wird ein Unternehmen oder Unternehmensbereich mit Geschäftsführung, unterschiedlichen Hierarchieebenen, Betriebsrat, Kund/innen, Lieferant/innen, Partner-, Tochterunternehmen, etc… in einer kompletten Büroinfrastruktur praxisnah simuliert.
In several "simulation rounds", numerous practical tasks have to be completed and mastered under "difficult" conditions and stressful conflict situations.
 managementpraxis | Führen in der Praxis 2.0 – Entwickeln Sie Ihre Führungsqualität in der härtesten Managementsimulation
managementpraxis | Führen in der Praxis 4.0 – Virtuelle Führung und New Work
managementpraxis | Digitale Transformation – Managen von Transformationsprozessen
Die Qualität
Die Ergebnisse der weltweiten Benchmarking-Studie der Amerikan Society for Development and Training beweisen die hohe Qualität der Gesellschaft für Wirtschaftspsychologie und Organisationsdynamik in der Entwicklung und Durchführung von Planspielen [Führungsverlhaltensplanspiele, Change- und Transformationsplanspiele].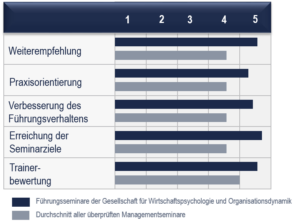 Die praxiserprobten Planspiele werden bzgl. Ziele, Inhalte, Organisation, Dauer etc. auf die spezifischen Bedürfnisse Ihres Unternehmens maßgeschneidert – in einem persönlichen Gespräch stellen wir Ihnen gerne diese Form der Kompetenzentwicklung vor.
Mail: gwo@gwo.at
Telefon: 01 / 310 65 80