Kompetenzentwicklung – Training on the, Training off the, Training out of the … job?
Oliver Wegenberger
Kompetenzentwicklung nimmt eine zentrale Rolle im Talent- und Kompetenzmanagement ein. Kompetenzen von Mitarbeiter/innen und Führungskräften weiterzuentwickeln bzw. entsprechende Talentmanagement-Programme bereitzustellen ist eine zentrale Aufgabe der Personalentwicklung.
Zur Kompetenzentwicklung gibt es eine große Vielfalt an möglichen Maßnahmen. Neben den "Klassikern" Buch, Seminar und Coaching sind dies unterschiedlichste weiteren Formen der Kompetenzentwicklung von [Zertifikats-]Lehrgängen bis hin zu VR/AR basierter Ansätze. In anderen Worten, die Welt der Kompetenzentwicklung ist mannigfaltig und facettenreich [geworden]. In der klassischen Differenzierung wird zwischen folgenden Maßnahmen-Kategorien der Kompetenzentwicklung unterschieden:
Training on the job

Kompetenzentwicklung direkt am Arbeitsplatz

Training off the job

Kompetenzentwicklung außerhalb des Arbeitsplatzes – z.B. im Seminarraum
Angesichts der zahlreichen Alternativen stellt sich die Frage, ob diese "klassische" Differenzierung in "Training on the job" und "Training off the job" zu kurz gegriffen ist. In unserem Buch "Talent- und Kompetenzmanagement" (Wegenberger & Wegenberger, 2021), schlagen wir die folgende – erweiterte – Klassifikation der unterschiedlichen Maßnahmen der Kompetenzentwicklung vor:
Training out of the job
Training off the job
Training near the job
Training on the job
Training by the job
Training out of the job
Wissens- und Kompetenzentwicklung kann "überall" stattfinden. Ein relativ wenig beachteter Teil der Kompetenzentwicklung ist der Privatbereich. Kompetenzentwicklung ist nicht auf den Arbeitskontext beschränkt, sondern geschieht ebenso im privaten Bereich – sei es im Rahmen eines Hobbies oder einer Vereinstätigkeit.
Training off the job
"Training off the job" beinhaltet Gruppentrainings und Einzelverfahren der Kompetenzentwicklung die außerhalb des Arbeitsplatzes stattfinden.
Beispiele sind: Seminare, Coaching, Lehrgänge, Studium.
Training near the job
"Training near the job" ist der Kategorie "Training on the job" ähnlich und die Grenzen zwischen diesen Kategorien ist eine fließende. Zu "Training near the job" zählen Kompetenzentwicklungsmaßnahmen, die mit dem eigenen Aufgabengebiet zu tun haben, jedoch außerhalb des Arbeitsplatzes, Teams oder Aufgabengebietes erfolgen.
Beispiele sind: Mentoring, Supervision.
Training on the job
"Training on the job" meint Kompetenzentwicklung direkt am Arbeitsplatz bzw. direkt im eigenen Aufgabenbereich. Die Grenze zu "Training near the job", ist, wie oben beschrieben, eine fließende. Ein klassisches Beispiel ist die Einschulung in neue Tätigkeiten/Aufgaben direkt am Arbeitsplatz [z.B. Einschulung auf die CRM-Software].
Training by the job
"Training by the job" umfasst alle Formen der Kompetenzentwicklung, bei denen "Lernen" und "Arbeit" wechselseitig miteinander zusammenhängen – "die Aufgabe selbst ist Teil des Trainings und das Training ist Teil der Aufgabe" (Wegenberger & Wegenberger, 2021, S. 348).
Beispiele sind: Qualitätszirkel, Job-Enrichment, Problemlösungsworkshops.
Zusammenfassung
Mit dieser [erweiterten] Klassifikation soll einer mannigfaltig[er]en und vielfältig[er]en Welt der Kompetenzentwicklung Rechnung getragen werden. Insbesondere soll der unternehmensexterne, private Bereich mit der eigenen Kategorie "Training out of the job" eine stärkere Beachtung finden. Die vorliegende Klassifikation der Kompetenzentwicklungsmaßnahmen ist als alternativer, erweiterter Vorschlag zur klassischen Differenzierung in Training on the job und Training off the job zu sehen.
Die Welt der Kompetenzentwicklung hat sich in den vergangenen Jahren / Jahrzehnten stark weiterentwickelt und dies wird auch in Zukunft der Fall sein. Vor diesem Hintergrund ist auch der vorliegende Klassifikationsvorschlag laufend weiterzuentwickeln.
Näheres zum Thema der Kompetenzentwicklung und vielen weiteren Themen [wie z.B. Personalauswahl, Kompetenzen und Kompetenzmodelle, Potentialanalyse] finden Sie in unserem Buch Talent- und Kompetenzmanagement – Link zum Buch.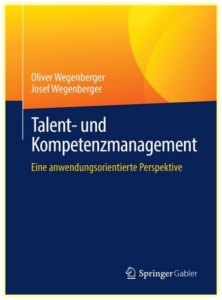 ---
Interessantes Thema für Sie? Hier geht es zu unseren Leistungen zum Thema Kompetenzentwicklung.
---
Source
Wegenberger, O., & Wegenberger, J. (2021). Talent- und Kompetenzmanagement: Eine anwendungsorientierte Perspektive. Springer Gabler
Image source
Freepik